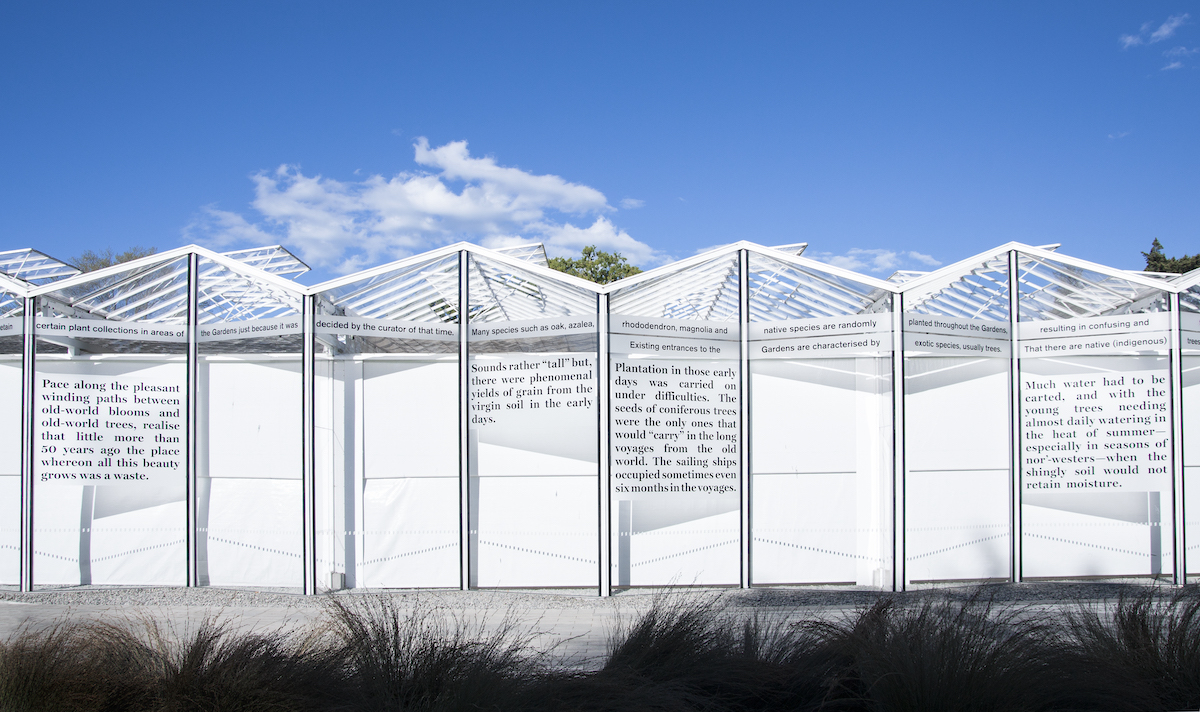 THE OLD AND THE NEW

Exhibited in Time in Space (territories and flow), SCAPE Public Art Season 2017, Ōtautahi Christchurch, curated by Heather Galbraith (solo)


Ana Iti made a work in response to the historical development and contemporary aspirations of the Christchurch Botanic Gardens, using this site to explore the effect of inherited legacies. Botanic gardens serve many purposes: a protected green space in the centre of a city, a site for scientific research, a place for asserting a connection to and importance of another place (particularly key in gardens established during a period of colonisation), and a place for public recreation. They are evolving ecologies, reflecting the collecting imperatives and political and cultural conditions of decades and centuries past, as well as current thoughts and practices.

Iti's text work along the front of the Nursery building used compiled fragments from an article written for Christchurch newspaper The Sun in 1915 and the Christchurch Botanic Gardens Management plan, 2007. The resulting graphics, produced with designer Gemma Banks, highlighted some aspirations for and challenges faced by the Gardens, including how native plants and trees have fared over its history. In doing so, The Old and the New highlighted the politics and poetics of the Gardens as a 'living museum,' and the cultural construction of the way we understand and relate to nature in Aotearoa.

-Heather Galbraith, Managing Curator for SCAPE Public Art in Otāutahi Christchurch (2016, 2017, 2018)


The old and the new, vinyl cut lettering, text extracts from The Christchurch Botanic Gardens Management Plan 2007 and Sun, Volume II, Issue 563, 29 November 1915, 2017.